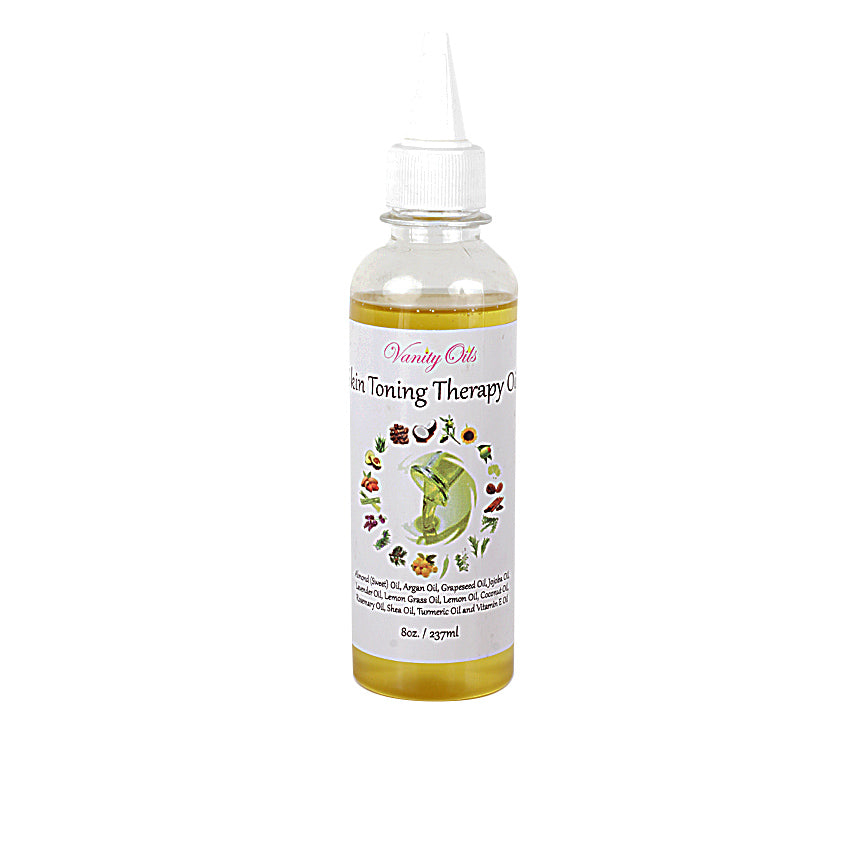 ---
Uniquely formulated from the top 12 Carrier and Essential Oils for Skin, Skin Toning Therapy Oil hydrates skin and helps retain essential moisture. Helps repair scars without clogging your pores. Skin Toning Therapy Oil is great for helping to heal acne scars and as an anti-aging treatment. It fades dark spots and helps even the skin tone for a natural glow.
Vanity Oils Skin Toning Therapy Oil is our best seller and a customer's favorite.
Skin Benefits: Protects, nourishes and moisturizes skin. Leaves skin soft and smooth with no oily traces.  Promotes soft-toned smooth skin, fades scars and dark spots, reduces and prevents acne and other skin infections, relieves dry skin, restores elasticity, rejuvenates dull skin, and protects from environmental damage.
Ingredients: A mixture of Almond (Sweet) Oil, Argan Oil, Grapeseed Oil, Jojoba Oil, Lavender Oil, Lemongrass Oil, Lemon Oil, Coconut Oil, Rosemary Oil, Shea Oil, Turmeric Oil, and Vitamin E Oil.
Specifications:
Name: Skin Toning Therapy Oil
Product Category: Mixtures
Source: A mixture of Almond (Sweet) Oil, Argan Oil, Grapeseed Oil, Jojoba Oil, Lavender Oil, Lemongrass Oil, Lemon Oil, Coconut Oil, Rosemary Oil, Shea Oil, Turmeric Oil, and Vitamin E Oil.
Description: Bright yellow oil with a lemon smell. 100% pure and natural, fragrance free with no additives, colorants, or preservatives
Directions: Use directly on skin or combined with other oils, lotions and butters.
Storage: Store in a cool, dry, and dark place away from direct sunlight and heat
Warnings: External use only.
Shelf Life: 12-24 Months. See individual product packaging for best before date
---
Share this Product